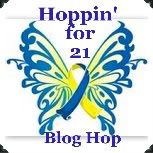 Today on the 21st of October (which is Down syndrome awareness month), I'm supporting all of the beautiful people that have designer genes (an extra chromosome 21 to be exact) by participating in a blog hop. So go ahead, check out one of the other blogs. Read about some fabulous families and see how "normal" our lives are. While you are at it, drop them a comment and tell them you are blog hopping. Tell them how beautiful their child is...we never tire of hearing that :-)
From the day Hailey was born, we always stress that we want people to see Hailey...not a diagnosis. "People First". I always wonder when people go on about how cute she is or how precious she is, if they are seeing her as a baby or they are pitying her and seeing a "burden". Between her two older brothers, Hailey attends soccer practice three nights a week. She would probably prefer to not go but she's #3...she has to roll with the punches. One day, we will make the boys go to all her activities as well. As a result, Little Peanut has learn to adapt....some days she naps, she eats dinner in the stroller and some days she chats to anyone walking by.
Monday, we were waiting for Ian's practice to wrap up so we could pick Brayden up at church, when another mother approached me. Hailey was wrapped up in a quilt sound asleep. The mother said, "Typical 3rd child...you learn to eat and sleep where ever you are". I chuckled inside...someone referred to Hailey as "typical"! I looked at Hailey (I almost had tears in my eyes)...yes, she is a typical third child.
I wish I had something more profound to share today since it is the blog hop but it has been a long day and it is Friday....I think my brain has shifted to auto-pilot! Hailey had therapy this morning. L was off last week so we had a 2 week lapse. Next week we start back up with every week again. Hailey seems to be "on the verge"....she is very close to scooting forward (right now we are going backwards) and very close to sitting unassisted. It is almost as if she hasn't connected all the pieces together. So our homework for this week is more sitting and playing (when forgets she isn't propping herself up when she has something to distract her), more kneeling and more container play.
Here are a few pics of Hailey realizing that there is a baby in the mirror and her opinion of soccer practice....
This one is blurry but it was sweet.